Billy Goat Aftershave
$ 18.00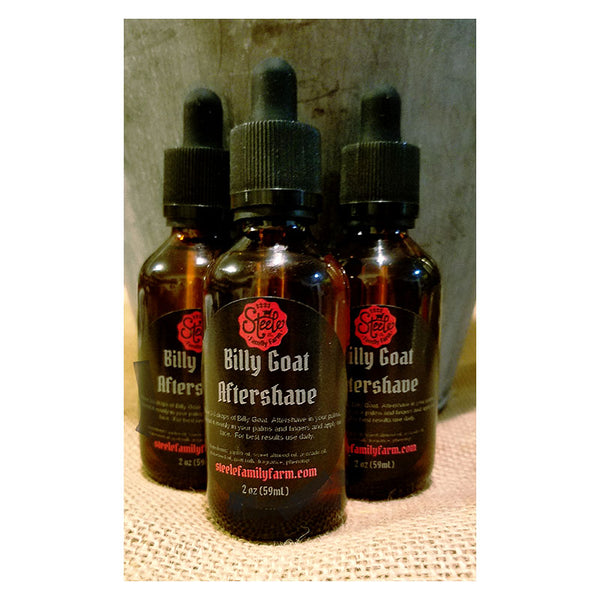 Billy Goat Aftershave
$ 18.00
Made in the USA.
Conditions the face and neck with natural oils along with the goodness of fresh, raw goat's milk. Made with Jojoba oil, Sweet Almond Oil, Avocado Oil, and Goat Milk. 2-oz. glass dropper bottle so you control how much and where it's applied. Available in six fragrances. Make your selection from the drop-down menu.

Available Scents:

Billy Goat Bison – Sweet top notes sprinkled over a bed of petals and finished with a smooth, woody base.

Billy Goat Blue Moon – Crisp citrus notes highlight this aromatic woody blend followed with fresh lavender and jasmine on a background of cedar, musk and Asian Sandalwood.

Billy Goat Chief - Vibrant Bergamot and fresh basil leaf are complemented by earthy notes of Oakmoss and white patchouli.

Billy Goat Heartwood – A blend of Sandalwood and Bergamot Essential Oils. Bergamot oil has a light citrus scent with floral notes.  Sandalwood Essential Oil has a  a distinctive soft, warm, smooth, creamy, and milky precious-wood scent.


Billy Goat Mountain - The familiar scent of Irish Spring. Reminiscence childhood in the 70's and 80's. ( Don't forget to wash behind your ears!) Billy Goat Mountain leaves a fresh and clean scent with citrus zest, jasmine, lily, and musk notes.

NEW!





Billy Goat Smoke – Includes base notes of tobacco leaf and oriental spice provide the perfect foundation of Cuban tobacco.