Sale prices apply ONLY to
Sale category
. No discount code needed. Discount is immediate and shows both our regular retail and current sale price. Orders placed before 12/4/23 will guarantee delivery before Christmas. Current Sale ends 12/31/23 at midnight. Check out our weekly unadvertised deals on the flashing Home page menu with the monthly sale and clearance items.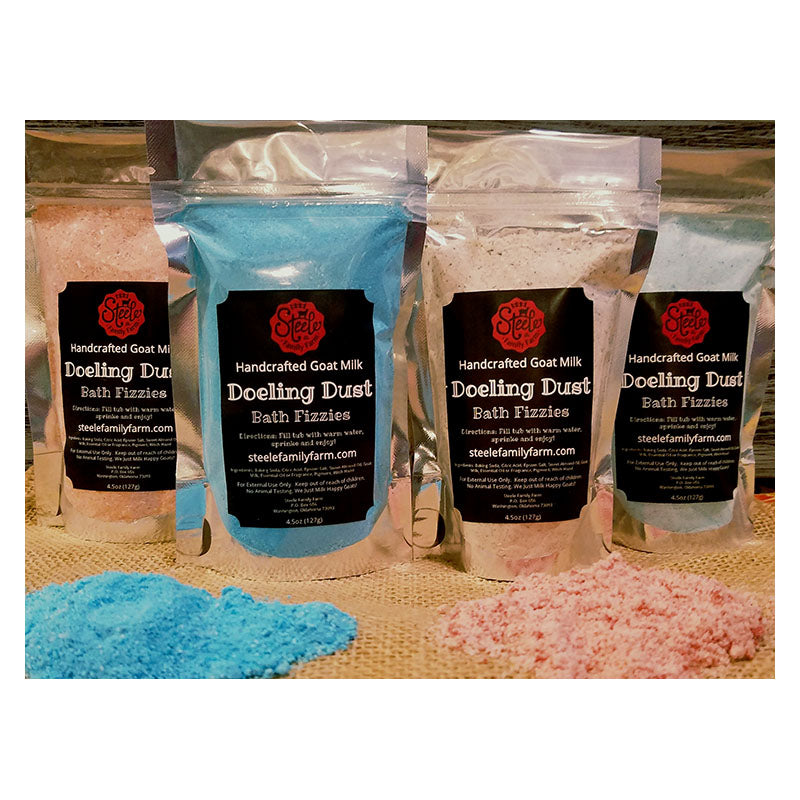 Goat Milk Doeling Dust Fizzy Bath Bombs
$ 6.00
Made in the USA. Enjoy a luxurious bath with our "Doeling Dust" fizzing, bubbly powder form bath bombs that dissolve instantly, no waiting for softened, scented water for your weary bones and muscles to absorb. Packaged in stand-up, resealable pouches that make the perfect gift for someone special. Approximately 4.5 oz. each. Available in 24 scrumptious scents. Make your selection from the drop-down menu.

Ingredients: Powder Base, Goat Milk, Sweet Almond Oil, Fragrance.

Available Scents:
Bombshell - A bright citrus fragrance that unfolds into a lusciously fruity splash of crisp apples and red berries with a floral bouquet of wood rose and jasmine lends heart as sweet amber, woods, and white musk adds ongevity.

Burnt Orange - Sweet orange essential oil that is citrusy and sweet with a cheerful, uplifting yet simultaneously relaxing, calming effect.

Cocoa Goat – Cocoa is a hero note, adding a sense of coziness, warmth, and touch of sweetness.


Coconut Lime – Fresh coconuts, limes, and fragrant verbena, warmed by vanilla and musk.

Crimson & Cream - Bright citrus top notes create lift for this fruit delight. Lush black raspberry is accented with crisp green tones and hints of wild rose for a rich fragrance signature. A base of clear musk intertwines with soft wood for a lasting impression.

Eucalyptus – A fresh, crisp, clean, sweet and camphoraceous scent.

Farmgirl – A classic mixture of almond and warm honey notes.

Ginger Twist – A blend of Ginger, Clove, Bergamot, Lemon, Key Lime, Orange, & Grapefruit Essential Oils.


Glitter Goat – Fresh honeydew melon and crisp cucumber.

Goatmeal Honey – Fresh oatmeal, milk, and honey. Our most popular scent!

Goaty Grapefruit – Grapefruit Essential Oil ~ a pleasantly sweet, tangy/tart aroma.

Jasmine – A blend of Bergamot, Jasmine, Lemon, Palmarosa, Tangerine, and  Ylang Ylang essential oils.

Lavender –  The sweet and subtle aroma of lavender flowers.

Lemongrass – Lemongrass Essential oil provides a very clean, crisp aroma of distinct citrusy lemon, with a touch of botanical grasses.

Patchouli – A '60s flashback with a unique woody, musky, sweet and earthy aroma.

Peppermint - Refreshing, minty aroma that awakens your senses.

Red Dirt – Sandalwood and Sweet Orange essential oils provide a distinctive soft, warm, smooth, woody, and sweet citrus scent.

Robyne's Rose – Beautiful aroma of freshly cut roses with green leaf and stem notes.

Salty Caramel – The rich, indulgent scent of salted caramel.

Sonnet Shimmer – An uplifting blend of sun-kissed mango and papaya.

Spearmint –  Spearmint Essential Oil is a refreshing, minty aroma that awakens your senses.

Strawberries & Champagne – A fruity fragrance of wild strawberries and sparkling champagne on a base of soothing musk and sandalwood.

Sun & Sand - The scent of a tropical beach breeze with sweet orange flower, lemony citrus, lavender, and powdery musk.


Sweet Pea –  The refreshing mix of pineapple, plumeria, sweet pea, strawberry, clover, musk, and sandalwood.

Item#: SFFDUST-01
---
---
Pin It