Sale prices apply ONLY to
Sale category
. No discount code needed. Discount is immediate and shows both our regular retail and current sale price. Orders placed before 12/4/23 will guarantee delivery before Christmas. Current Sale ends 12/31/23 at midnight. Check out our weekly unadvertised deals on the flashing Home page menu with the monthly sale and clearance items.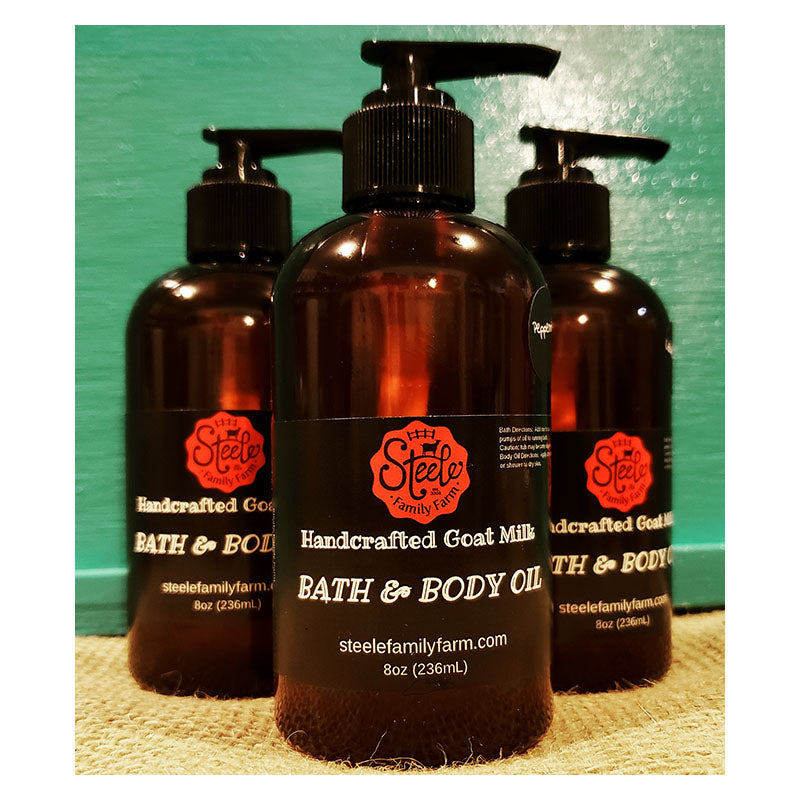 Goat Milk Bath & Body Oil
$ 14.00
Made in the USA. Pamper your skin and treat yourself to a relaxing bath while receiving the natural benefits of goat milk. Use it in your bath or apply it after a bath or shower to moisturize your skin. Handcrafted from fresh, raw Nubian goat's milk combined with essential oils and/or fragrance oils. 8 oz. pump bottle. Available in nineteen scents. Make your selection from the drop-down menu.

Available Scents:
Coconut Lime – Fresh coconuts, limes, and fragrant verbena, warmed by vanilla and musk.

Eucalyptus – A fresh, crisp, clean, sweet and camphoraceous scent.

Farmgirl – A classic mixture of almond and warm honey notes.

Ginger Twist – A blend of Ginger, Clove, Bergamot, Lemon, Key Lime, Orange, & Grapefruit Essential Oils.

Glitter Goat – Fresh honeydew melon and crisp cucumber.

Goatmeal Honey – Fresh oatmeal, milk, and honey. Our most popular scent!

Goaty Grapefruit – Grapefruit Essential Oil ~ a pleasantly sweet, tangy/tart aroma.

Jasmine – A blend of Bergamot, Jasmine, Lemon, Palmarosa, Tangerine, and  Ylang Ylang essential oils.

Lavender –  The sweet and subtle aroma of lavender flowers.

Lemongrass – Lemongrass Essential oil provides a very clean, crisp aroma of distinct citrusy lemon, with a touch of botanical grasses.

Patchouli – A '60s flashback with a unique woody, musky, sweet and earthy aroma.

Peppermint - Refreshing, minty aroma that awakens your senses.

Red Dirt – Sandalwood and Sweet Orange essential oils provide a distinctive soft, warm, smooth, woody, and sweet citrus scent.

Robyne's Rose – Beautiful aroma of freshly cut roses with green leaf and stem notes.

Salty Caramel – The rich, indulgent scent of salted caramel.

Sonnet Shimmer – An uplifting blend of sun-kissed mango and papaya.

Strawberries & Champagne – A fruity fragrance of wild strawberries and sparkling champagne on a base of soothing musk and sandalwood.

Sun & Sand - The scent of a tropical beach breeze with sweet orange flower, lemony citrus, lavender, and powdery musk.



Sweet Pea –  The refreshing mix of pineapple, plumeria, sweet pea, strawberry, clover, musk, and sandalwood.
Item#: SFFBOIL-1
---
---
Pin It
---